Our common future needs new technologies

Heat pumps transfer low-temperature heat from the environment and waste heat from industrial processes as useful heat at a higher temperature level to a system to be heated. A heat pump has a primary and a secondary circuit. Heat is transferred from the primary to the secondary circuit via two heat exchangers by a refrigerant circulating in the heat pump.
Primary circuit
The primary circuit is the circuit that brings the thermal energy into the heat pump and heats the refrigerant via a heat exchanger.
Secondary circuit
In the secondary circuit, the heat stored in the refrigerant is transferred via a heat exchanger to the medium circulating in the secondary circuit.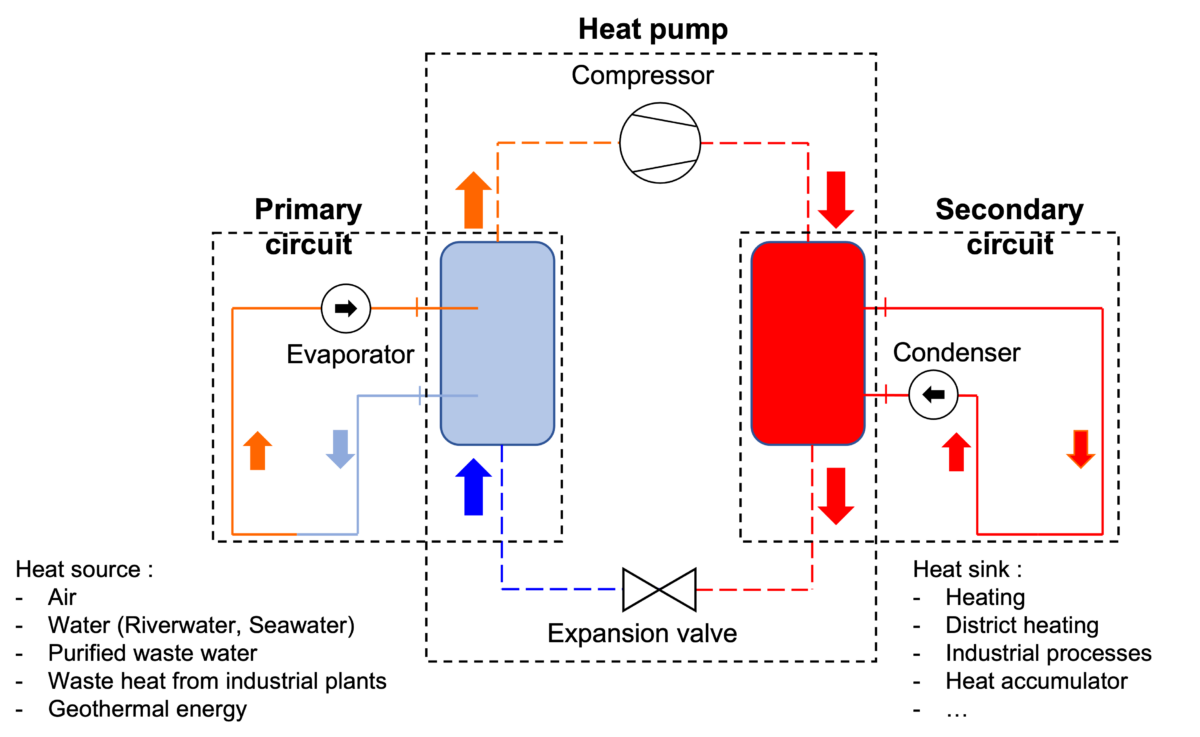 Basic principle
A refrigerant circulates within the heat pump, which evaporates at a low temperature level due to its properties. The refrigerant, which is gaseous due to the heat exchange in the evaporator, is compressed by a compressor and thus reaches a higher temperature level. In the condenser, the refrigerant transfers the thermal energy to the medium in the secondary circuit and is then throttled back down to the original pressure level by an expansion valve.
Large heat pump (LHP)
Large heat pumps can transmit outputs of several MW.
Large heat pumps from approx. 2 MW are custom-made products that are specially designed and manufactured to meet the requirements of the application. In many projects, the large heat pump is part of an overall system, such as in a district heating network, in combination with combined heat and power plants or P2H processes.
Due to the project-specific requirements when using large heat pumps, timely and detailed planning is necessary. This applies not only to the design of the large heat pump, but also to the planning of the primary and secondary circuits of the entire system.
The DSD's scope of services includes:
Feasibility and concept studies

Support with approval planning

Project planning and project management of GWP projects

Planning, calculation and construction of the GWP complete system

Delivery and installation of the GWP plant technology

Measurement and control technology of the GWP plant

Mechanical and electrical installation

Assembly and assembly supervision

Commissioning and trial operation

Maintenance and service
As a general contractor (EPC), DSD offers you turnkey technical solutions adapted to customer requirements. DSD works together with renowned suppliers for this purpose.